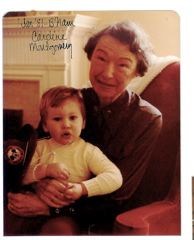 I met her in 1975.  Patty, my wife, was the one who actually had the relationship and I tagged along.
Caroline was in her 70s and was a widow.  She was the epitome of a gracious, Southern lady.   Under the genteel surface was a life that had been difficult with personal and family challenges and the accompanying pain.
But from it all and through it all, God had taken this women and drawn her deep into a life of prayer.  She knew Jesus in a depth that few attain.  Praying with her was like being ushered into the presence of the holy.
She prayed for us.  She prayed for CRM in our formative years.  In the picture above, David, our oldest, sits on her lap, a product in no small way from her prayers.  We had difficulty having kids and I believe Caroline was an integral part of that process through her intercession as much as doctors and infertility meds.
She was ushered into glory and the presence of the Jesus she loved in 1988.  But like Elijah, her mantle fell not to just one Elisha, but to many who stepped into the gap to pray.   However, heaven only knows what role she played behind the scenes in so many lives, so much ministry, and in so much supernatural change.