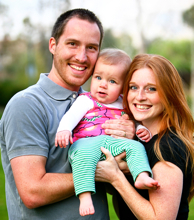 "I am not ashamed to confess publicly that next to theology there is no art which is the equal of music, for she alone, after theology, can do what otherwise only theology can accomplish, namely, quiet and cheer up the soul of man, which is clear evidence that the devil, the originator of depressing worries and troubled thoughts, flees from the voice of music just as he flees from the words of theology.  For this very reason the prophets cultivated no art so much as music …

-  Martin Luther, 1530
To lead worship, as expressed in music, obviously requires some natural abilities and acquired skills.  But those alone, do not make good worship leaders.
All of us have been subjected to people who lead "worship" who are more intent on performance and listening to the sound of their own words and voices rather than knowing how to usher participants into the presence of God.
Derek and ChrisTiana Rice are two of my favorites when it comes to the use of music in worship.  And it is not because of their talent – which is considerable – but because of the source of their leadership.  Worship, and leading others in this pursuit, emanates out of their own intimacy with Jesus.  It flows from the depth of their souls and is grounded in their awe of the holy.
I'd like to clone them.  And this actually what will happen in the years ahead as they mentor, coach and develop others with their same sensitivities and passion.
Derek and ChrisTiana serve with NieuCommunities in San Diego, CA.