Dave Everitt is one of my heroes.
•    He is an unconventional "missionary."  He breaks the stereotypes.
•    He puts flesh and blood to the concept of being apostolic.
•    Dave just "shows up" and God seems to do the rest.  No presumption.  No ego.  Just a willingness to be there and then trust God to do the supernatural.
•    The guy oozes passion.
•    He's larger than life and is a mutation between a cross-cultural Rambo and a big, cuddly teddy-bear.
•    His legacy and influence in Cambodia will be legendary.  The lives he's touched will affect the Christian movement in that nation for generations to come.
Dave and Lisa Everitt have lived and minister  in Cambodia with InnerCHANGE, CRM's order among the poor.  For more information, go to www.innerchange.org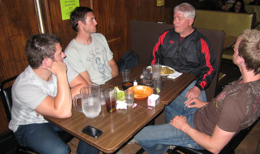 I was with Dave in San Francisco last month and let him loose on a group of younger men – one in particular who may may have similar  potential to Dave but it's latent – and Dave held court for four straight hours.   I was in tears at least three times as he recounted stories of God's presence and faithfulness in Asia.  It was gripping.
There are places all over the world in need of people like Dave Everitt.  God, give us new generations of people willing to just "show up" and see the supernatural presence of God flow through them in word and deed.