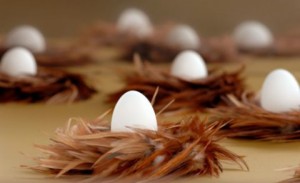 While I'm at it about the absurdity of "retirement," I have some energy on another related topic.  Might as well spit it all out.
Frequently I encounter people (particularly those who are successful in business, or younger men and women who want to be successful) who are contemplating what God would have them do with the latter half of their lives, and the line I hear runs something like this:

"I would love to serve God with more of my time and talent in the coming years.  But I want to have made enough money to be independently wealthy.  I really don't think it is right to ask other people to support me when I could pay my own way.   So I want to wait until my nest egg is secure and then Jesus can have all my time and attention."
I have rarely seen it work out this way, where independent wealth becomes an essential stepping stone for future ministry.  Rather, it can become a curse for several reasons:
1.  Behind such a desire can be an unwillingness to live a life of dependency, either dependency on God or other people.  The need for financial security trumps one's ability to step out and trust God for the most basic of economic necessities.
2.  There is a subtle, unhealthy independence that such wealth can engender.  I've seen it several times when we've accepted folks to minister with CRM who didn't need to raise money.  They had it all.  Inevitably, when times got tough in the crucible of ministry, or there was conflict, or things didn't go their way, they could pack it up and leave.  Having one's own resources makes it a lot easier to cut and run.
3.  When I'm independently wealthy, it can put me at odds with those in the apostolic community or team with whom I minister.  I have options they do not have.  I have resources they do not have.  No wonder historically in the missionary orders of the Catholic and Orthodox tradition, one would divest themselves of such material attachments so that all would be laboring together on level ground.
4.  Unfortunately, needing to make my fortune can become an excuse for never responding to what may be God's clear calling on my life.  It's a smoke screen.  It's a way to rationalize away the voice of God.  Movement toward that calling can be inhibited because the nest egg is never considered by the individual to be sufficient enough.
Let me be clear.  I'm not dissing anyone who is doing well financially and particularly those who have learned the grace of giving and sacrificial stewardship and are called to the marketplace.  Rather, I am calling into question when the drive to attain such financial "freedom" is used as the justification for delayed obedience to God's leading.
When I look for people who are grappling with the calling of God toward ministry that is apostolic in nature, one of the true tests of that calling is that money and financial security are the last and least issues to be considered.  What's healthy is when these issues are the stubby little tail and not the dog.  When it is the other way around, it's a portent for trouble.