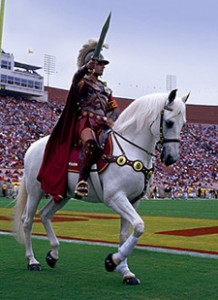 The economy is in a tailspin, unemployment is skyrocketing, and homes are in foreclosure.
How appropriate for an appeal to be made at the recent USC-Oregon football game at the LA Colosseum for folks to contribute further to the 2 million dollar endowment for Traveler, the white horse that is the mascot for the USC Trojans.  Let's insure, the announcer said, that Traveler can get to all the games and do so in style.
Hey, nothing but the best for that horse!   Such a "let them eat cake" comment would have made Marie Antoinette smile.