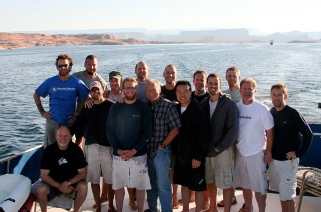 Much of the leadership development theory that emanates out of J. Robert Clinton is a confirmation of the obvious if we reflect long enough to recognize it.  His "Informal Theorem" is a good example of such an intuitive truth:

"The more informal the training medium the more potential for in-depth impact in the life of the trainee."
One of the most powerful venues I have for such in-depth impact in the lives of younger leaders is an annual week-long boat trip on Lake Powell in the Arizona desert.  It's an unparalleled opportunity for guys to play hard, share deeply, and relate profoundly.
The group this year – 18 CRM staff or potential staff – will be scattered to the nations in the coming months:  Latin America, Asia, Europe and Africa.  But what has transpired in their lives, and the relationships they have built during this one week in September 08, will stay with them the rest of their lives.  Deo Gratias!