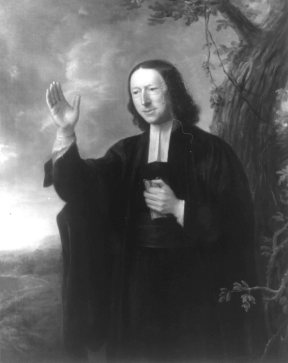 It seems fashionable today in missional circles to exhibit an anti-organizational bias. "Organization" and "structure" have become dirty words and smack of institutionalization, bureaucracy, hierarchy and modernity.
Even around CRM, we've been striving to purge "corporate" language and replace it with nomenclature that resonates with words and concepts that are non-business like, non-controlling and egalitarian. But I wonder, at times, if all of this neo-organic trendiness is inadvertently throwing the baby out with the bathwater.
It is an innate part of the human condition to organize. As every student in sociology 101 knows, human beings always bring structure to their relationships. There is not a movement throughout the 2000 years of the history of Christianity, no matter how spiritually vibrant or well-intended, that did not organize itself in one way or the other if it was to be fruitful and sustainable.
A powerful case study is the comparison of George Whitfield (1717-1740; above left) and John Wesley (1703-1791 above right).
Whitefield was the best-known preacher and one of the most widely known personalities in public life throughout England and America in the 18th century. He traveled through all of the colonies drawing enormous crowds and was one of the most recognized public figures in America before George Washington. Benjamin Franklin listened to him (without sharing his convictions) in Philadelphia and was astounded that his voice could be heard by tens of thousands at one time. He preached over 18,000 times and crossed the Atlantic seven times to itinerate in the colonies and was of the first to ever preach to slaves. Along with Wesley, he is credited as the co-founder of the Methodist movement.
Wesley, while also a speaker, focused on the organizational structure of the movement. He gave it shape and form through the infamous Methodist societies, classes and bands with their intense accountability and discipline. He was the organizational genius behind the movement.
It is bad history to devalue Whitefield's contribution. His leadership was inspirational. But when it comes to the depth of social influence and sustainability of the movement, Whitefield doesn't come close to the long-term impact of John Wesley. At the end of the day, effective organization won out.
Any movement, no matter how dynamic or how infused it may be with the power and the presence of the Triune God, is not sustainable without organization. Effective structure is essential.
What happens is that the organization that evolves to serve the movement invariably outlives the original movement, and what's left is a shell that is powerless and impotent. But that inevitability is no excuse to write off the necessity of structure without which the immediate becomes transitory and even less is sustainable for the future.