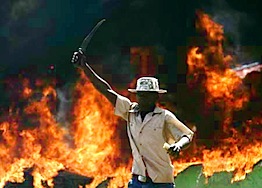 I talked today with the folks serving with CRM in Nairobi, Kenya.
This couple, who are actually Nigerian, have lived and ministered in this East Africa nation for the past 20 years. I asked about their impressions of the violence and upheaval that has roiled Kenya after the conflicted presidential election held in December, 2007. One observation they shared was sad.

"In the midst of the social turmoil, the church has been strangely silent. And unfortunately, tribal loyalties have too often trumped kingdom loyalties. The situation is another example of the crises of leadership that grips the African church."
In a land where the Christian veneer appears as a pervasive covering over all of society, to hear of another situation where ethnic bloodletting is tolerated or even encouraged by those who claim to be followers of Jesus is disheartening. It has the all too familiar ring of earlier events in Rwanda and Uganda. It is another example of the transformational presence and power of Jesus being compromised and being rendered impotent because cultural captivity.