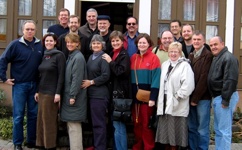 These are scenes from this year's CoNext meetings held this past week in Kovagoors, Hungary, south of Budapest. Attending were seven nations where nationals lead CRM ministries: Australia, Venezuela, Hungary, Africa, the UK, the Middle East, and the US.
Keith Uebele, senior strategist with Intel and a member of the CRM-US board of directors did an excellent presentation on distributive organizations. Sessions were also spent delving together into topics such as recruiting and funding in our respective nations.
Most impressive was the depth of camaraderie around a sense of common calling and vision that superceded significant cultural and geographical differences. These are the men and women who are making it happen all over the globe …empowering leaders for the Church and multiplying the structures that can replicate an apostolic movement among the nations. It's a privilege to be part of such a company of the committed.