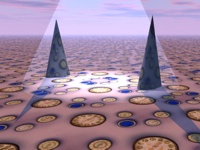 One of the ways God exercises his sovereign leading in a person's life is through what J. Robert Clinton and others refer to as "divine contacts."

While the concept may seem embarrassingly obvious, it is the simplicity itself that makes it easy to overlook and consequently miss the powerful and intentional way God often leads through such a relationship.
Clinton defines a divine contact as:

A person whom God brings in contact with a leader at a crucial moment in a developmental phase in order to accomplish one or more of the following:

1. to affirm and encourage leadership potential
2. to give guidance on a special issue
3. to provide insights which may give guidance indirectly and broaden the leader
4. to challenge the leader God-ward
5. to open a door to a ministry opportunity
6. to help an emerging leader make guidance decisions
7. to move the leader toward greater commitment
Without being alert to divine contacts, I can miss out both when God has placed such a person in my life
or
when I serve as such a person for others. Recently, Bobby wrote about how this works personally for him.
"I know from past experience that God will bring me in contact with people for whom something I say will make a significant difference in their lives—in other words, I may precipitate a pivotal point in their life. Because this has been true in the past, I am alert to it and actually pray God would make me a divine contact. Usually I will ask for a specific number (in a particular setting or event)."
God, make me alert to those you send into my life and for those to whom I am sent.