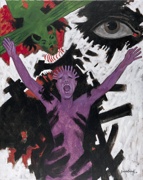 "Some of us are called to a white martyrdom."

The phrase grabbed my attention last week when I heard it from a friend in Denver. It was a phrase a spiritual director had passed on to him regarding suffering. The spiritual director had used this term to describe a martyrdom that is not instantaneous in one dark moment but is lengthy and may even stretch over many years.
I know people like this, who are called to suffer and do so over extended periods of time. I don't necessarily understand it nor do I know how to reconcile it with the nature of God, but it consistent with the overwhelming testimony of scripture regarding the role of suffering in the lives of those who follow Jesus.
We often joke of how the "gift of martyrdom" gets exercised only once, but if white martyrdom is a reality, that gift is probably much more widespread and practiced than I ever imagined.