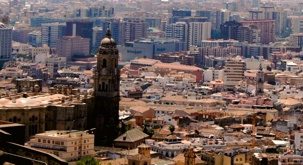 I just spent an intense week in Spain surveying it out as a potential site for a future CRM team.
Along with Alex Galloway (who leads CRM's Staff Development and Care Team) and Danny Aanderud (Spanish prof at BIOLA who is checking out potential CRM ministry opportunities in Europe among other things), we spent time in Madrid and then on the southern coast near Malaga.
We had a steady stream of appointments with church and mission leaders across a broad spectrum. While our learning curve is steep and we're just scratching the surface in getting our arms around what God is doing in the Spanish context, there were a variety of commonalities expressed throughout the conversations. Some of our initial observations include:

Spain is a nation rushing headlong into post-modernity and secularization.
This rush toward the future is a reaction, in part, to the social, political and cultural stranglehold of the Franco years and the tragedies of the 20th century such as the Spanish civil war.
The aversion to Catholicism is extraordinary to the extent that the Catholic Church has become irrelevant for the overwhelming majority of Spaniards.
Most evangelical church expressions are small, anemic, and culturally marginalized. Few would have any appeal to Spaniards under 30 years old nor do they know what to do with the emerging generation.
There is spiritual receptivity and vitality among the immigrant segments of the population.
Latin Americans are at the forefront of the most vibrant ministry initiatives in the country but are neither well-received or respected by most Spaniards.
Spain, but almost any criteria, could be characterized as "resistant" ground to historic, biblical Christianity. Most mission efforts either take a long time to bear any fruit or are ineffective on their face.