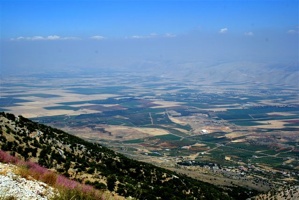 It's called the Beqaa. The massive rift valley in the center of Lebanon separated from the coast by the Mount Lebanon range to the west and from Syria on the East by the Anti-Lebanon mountains. In this picture, Syria is straight ahead over the mountains in the background. The Beqaa forms the northeastern-most extension of the Great Rift Valley, which extends down the spine of East Africa.
While historically the bread-basket of the region, today it is a harbor and a crossroads for the drug trade, money laundering, and terrorists of many stripes …Hezbollah, Iranian jihadists, and Syrian infiltrators into Lebanon to name the more well-known. It figured prominently in one of the first Tom Clancy novels I ever read years ago as a hotbed of intrigue and espionage.
As I was driving through it with one of the Lebanese who serves and ministers with us in Beirut, he mentioned that he used to be in the Beqaa several times a week and he pointed out the places where groups of believers in Jesus met.
I continued to be amazed at how God establishes his presence and signs of his Kingdom's reality even in the most inhospitable places on the planet.