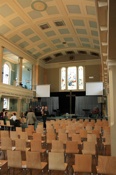 In a stunning Edwardian structure that has been meticulously restored, the Anglican congregation of St. Mary's meets in central London.
It appears to be a vibrant, growing expression of the body of Christ. I am impressed by the diversity and the appeal of this church among younger urban professionals. There seems to be a healthy appreciation of the arts and a keen understanding of what life and ministry entails in such a secularized European setting.
St. Mary's is an fascinating combination of the spiritual vibrancy akin to what we experience in California at New Song Church combined with an emphasis on ministry and giftedness that one would find in a healthy Vineyard, all wrapped up in an Anglican context with a sprinkling of English understatedness.
We look forward to hanging out here in the weeks ahead when we're in the city.