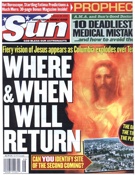 The LA Times reported today that dispensationalist pastor John Hagee's 2006 book, Jerusalem Countdown, has sold an amazing 1.1 million copies.
The fascination with such end-times speculation by the masses is absolutely stunning. I guess I shouldn't be surprised since it is the same type of phenomena that the Left Behind series generated and is consistent with the array of apocalyptic demagoguery that has plagued the Christian movement since the days of the early church. What's so pathetic about this is that people who are supposedly so biblically committed would be tantalized by such useless guesswork.
The fact is that in every passage where Jesus describes the end times, he draws the same conclusion and admonishes us toward the same application: "Be about the Master's business." And he repeatedly cautions against trying to determine timetables or dates.
If only a percentage of the energy, time and resources that gets misplaced into such meaningless pursuits were really focused on "the Master's business," what a difference it would make in a hurting world!
It's ironic and sadly revealing that a volume like Hagee's has sold 1.1 million, and a volume like John Hayes' excellent work, sub-merge: Living Deep in a Shallow World: Service, Justice and Contemplation among the Wo rld's Poor, has sold about 4,000 since it was released last month. I have a strong bias about which one really encourages those who follow Jesus to be about the Master's kingdom business. Those numbers alone are a dismal commentary on the state of western Christianity.