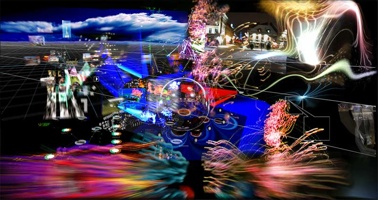 "What those thinking about emergent churches grasp is that the Bible is the most exciting book in the world, and we need to present it in ways that speak today. We're no longer the culture of the orator; we're the culture of the artist." – Eddie Gibbs in

Theology New and Notes, Winter 2007
It astounds me that anyone would continue to believe that monologuing (called "preaching" in the institutional church world) is the most effective way to communicate. That may have been true in centuries past, but it is could not be further from reality today. Being "talked at" is just plain boring. Even the very best monologue can't begin to compare in effectiveness with the visual and virtual experiences that are the norm in public and personal communication.
Gibbs is absolutely right. We live in the age of the artist. It's one of the great cultural/technological shifts of the latter half of the 20th century. All of the senses must be employed for communication to be effective.
May God produce multitudes of the artistic who can traffic with ease—and with spiritual authority—in the social currency of our day.