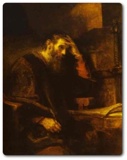 "If the short-term movement has been a trend toward 'amateurism' in missions then congregational-direct mission efforts are often even worse….

Most local church people, even members of brand new congregations, have no idea how a congregation does or should start, or even how it is to function – in their own society, let alone in a cross-cultural situation….
It is, in fact, highly unlikely that local congregations will have the resources of previous experience or historical or missiological perspective to work strategically or even effectively in a cross-cultural situation. Most congregations are unable to deal effectively with ethnic minorities on their doorstep. Why would they expect to be able to deal intelligently with those same kinds of strange people at a distance?
If what Paul understood to be needed in his outreach to the Greeks had been easily explainable to the Jewish followers of Christ back in Jerusalem, we would not have needed the detailed information in the New Testament. Rarely, down through history, has the exact nature of the need on the field been readily explainable to the people within the sending cultural situation."
—Missiologist Ralph Winter
** Painting is Rembrandt's famous "the Apostle Paul," circa 1657.