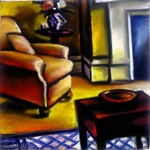 It has always helped me to have a place or places where I regularly meet with God. These are private sanctuaries that are venues of welcome for God and me. I know when I go there, it signifies to the Lord that I crave it to be holy ground where he and I can converse. It is where we enjoy union and communion.
It may be a room, a chair, or a special spot in nature. It could be a park bench or an easily accessible spot on a trail. It could be a quiet corner of patio or next to a window in a flat. Wherever it may be, it is quiet, private, and all mine. I have freedom there to pray, to sing, to lift my hands in worship or to prostrate myself before the presence of the Holy.
During my student days, there was a particular seat in the musty, little used university chapel that was my regular place to commune with Jesus. That spot almost had a magnetic quality to it. It drew me because I longed for what it represented and for the One whom I knew would find me there.