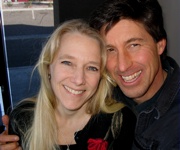 I met John Hayes over 20 years ago.
I was leading a discipleship group for single men and he joined it. He had just arrived in Orange County from Watts and was moving onto Minnie Street, one of the poorest, low income, high crime neighborhoods in a county that in the popular imagination of the rest of the country, symbolized the epitome of the American dream. Minnie Street was a teeming mixture of first generation immigrants from Latin America and Southeast Asia, (mostly Cambodian).
For over a decade, John lived there and thrived, building a team that has evolved into InnerCHANGE, an "order among the poor" with over 75 people people living and serving in places as diverse as Cambodia, Romania, Venezuela, the UK, and in American inner-cities such as LA, San Francisco and Minneapolis.
John met Deanna in the late 80s when she volunteered on Minnie Street. When John and Deanna were married in 1991, I had the privilege of officially tying the knot. They, and their two girls, are close to our family and we are honored to consider them in that rare category of life-long friends.
As such, John has had a profound influence on my life. In word and through example, he has moved me an enormous distance in my understanding of God's heart for the poor and how to effectively live out the good news of Jesus among the most marginalized. Not that I have arrived in this respect or will ever live incarnationally among the poor as those serving with InnerCHANGE do, but my paradigms, values, and understanding of biblical holism has shifted dramatically because of the presence of John and Deanna in my life. And I would like to believe that in some respects, how I live has been permanently and deeply altered as well.
John was a major catalyst in my doctoral work which combined urban theology with a theology of the poor, all practically applied through a rudimentary blueprint for an order, such as InnerCHANGE, to grow and thrive within a larger apostolic movement such as CRM.
John's new book, sub-merge, is must reading. It is a incredibly well written "manifesto" which puts feet to the biblical injunction to "act justly, to love mercy, and to walk humbly with your God." (Micah 6:8)



"Sub-Merge: Living Deep in a Shallow World: Service, Justice and Contemplation Among the World's Poor" (John Hayes)