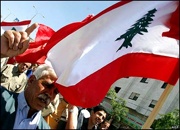 CRM has several families living and serving in Lebanon. This is the latest from the leader of the team, a Lebanese national:

Once again Lebanon and the Lebanese have fallen victim to the vicious hand of evil!

You no doubt have heard of the assassination of Pierre Amine Gemayel. His murder may easily trigger civil unrest particularly at this very sensitive period in the history of Lebanon.

Directly after his murder, many Lebanese flooded the streets blocking roads, burning tires and photos of political opponents… In several parts of Beirut, the Internal Security had to intervene to stop fights between people affiliated with opposing factions. The funeral is scheduled for tomorrow and hundreds of thousands are going to take the streets.

This comes at a time when we embarking on new ministry opportunities and many doors are opening in normally closed communities. While our country and people have grown used to times of crisis and difficulty, our hearts are burdened with sorrow. Nevertheless, we are not afraid knowing that our God is in control.

Please pray for Lebanon and the Lebanese; for wisdom at all levels and the avoidance of reactions that lead to further strife in the country. May God have mercy on our people and country.