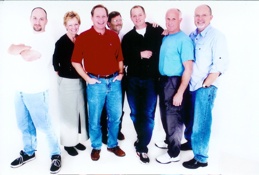 I just returned from several weeks in Europe: the UK, Ukraine, Romania and Moldova.
Whenever I travel, I never want to go alone. That's a waste. Too much can happen relationally during such intense and sometimes turbulent times on the road.
In this cool photo (taken at Spohad, a portrait studio that is a CRM Enterprise business in Ukraine) is the troupe that participated in this portion of the latest trip:
L to R: Ryan (my admin assistant), Deedee (CRM's VP for Finance), Tim (business guy and chair of the CRM-US Board), Jeri (CRM Enterprise staff living in Romania), Colin (Director of CRM Enterprise), Don (business guy and long-time personal friend/supporter) and me.