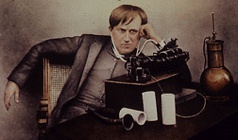 I'm on a flight to Eastern Europe and browsing through a British magazine with a synopsis of a study on Thomas Edison, the famous American inventor. Several lines have caught my attention:

"Central to Edison's success was his 'invention factory', bringing together great people, constant prototyping and a culture of innovation and enterprise … He believed that, while 'books show the theory of things, doing a thing itself is what counts.' He saw failure as part of the inventive process."
I continue to be amazed at how movements can ossify and institutionalize. Organizational gravity inevitably
pulls
toward institutionalization. The justifications used by the bean counters, policy makers, and those who must have rules and regulation are legion: "accountability…stewardship…excellence"...can all be admirable labels for clubs that are used to beat innovation and an entrepreneurial spirit out of an organizational culture.
In my experience the only way to keep an edge and a step ahead of the maintainers is to recruit and empower a steady stream of what Edison called "muckers." They are the trailblazers who simply need running room and someone to believe in them. That's why recruiting such men and women in the emerging generation is one of my top priorities. I believe nothing has the capacity to bring about as much lasting, transformational change as this. It's part of my own personal mission statement. Part of that to which God has called me is:

To challenge, recruit, sponsor and empower growing numbers of godly, high potential leaders into apostolic ministry and

To pioneer, nurture and grow apostolic structures which will multiply leadership for the Church in every nation.