Friday, October 27th, 2006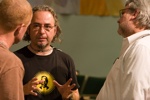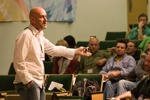 CRM's Missio Team, in conjunction with Fuller Seminary and Forge-Australia, recently sponsored a 2-day conference at Fuller. This "Missio-Intensive" addressed the issue of missionality for the church of the future in North America.
The major presenters for the event were Alan Hirsch and Michael Frost, authors of The Shaping of Things to Come (both pictured above) along with our own Hugh Halter.

CDs of these sessions can be ordered directly from Fuller Seminary or will be available through CRM online.


"The Shaping of Things to Come: Innovation and Mission for the 21 Century Church" (Michael Frost, Alan Hirsch)