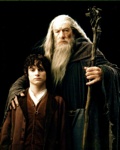 Another principle that Clinton emphasizes in strategic leadership transition is Goodwin's Expectation Principle which comes from a small booklet on leadership written by Bernie Goodwin, published by InterVarsity Press.

"Emerging leaders tend to rise up to the level of genuine expectations of older leaders whom they respect."
This powerful social dynamic assumes some important pre-requsites:
1. Emerging leaders and older leaders are in relationships of meaning.
2. Older types understand such a principle and see the value in it. They are willing to invest in such relationships.
3. The old heads have also earned the respect of the newcomers. The grey hairs are models worth emulating.
4. The emerging leaders are teachable and desirous of learning from those who have gone before.
5. The older leaders know how to mentor, coach and communicate expectations with a genuineness, humility and transparency that inspires.
I honestly believe that there have been few motivators more powerful in my life than having someone believe in me. I can name the handful whom God has used in such a profound way. They trusted me. They spoke "faith" into my life. They emphasized my strengths and not my weaknesses. They were conduits of God's grace, kindness and acceptance. They saw for me beyond what I could see for myslef. They enhanced my relationship with Jesus and urged me on in the pursuit of God. They loved me. I would not be who I am today without them.
May I be as faithful in the lives of selected emerging leaders as those who have gone before have been in mine.