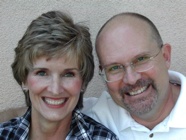 Thirty-two years ago this evening, Patty and I tied the the knot at Briarwood Presbyterian Church in Birmingham, AL.
It's been a great ride! Never in my wildest imagination did I ever presume God would give me a life-time companion of such grace, inner beauty and elegance. It has been an enormous privilege to enjoy 32 years of her presence.
In recent years, she's weathered severe illness and limitations that neither of us would have anticipated. While it has not been the script we would have written or chosen, it's obviously been the script divinely and uniquely designed for us. We would wish these events on no one but regret none of them in what they have taught us about ourselves, each other, and the all-sufficiency of God.
Through it all, Patty has grown deep in a relationship with Jesus that is marked by a contemplative even mystical life of prayer and a ministry of inner/emotional healing for those wounded in soul and spirit. God flows through her with gifts of mercy and compassion that are uniquely coupled with strong leadership skills and a heart for loving and mentoring younger women.
Because of what we've been through, we consider each day a gift. With more of life behind us than lies ahead, we are committed to making the most of the future and most excitedly, doing it together, much more in love than when we said "I do" 32 years ago.