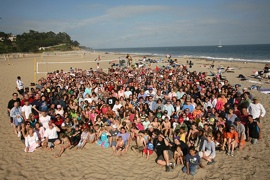 This was the scene June 16-21 in Santa Barbara, California as close to 700 people, from over 25 nations on every continent, gathered for CRM's once-every-four-year staff conference.  It was held at Westmont College.
This was a remarkable event. Although there are many incredible things to describe, probably the most prevalent impression I came away with was the overwhelming presence of God.  God's anointing was palatable from the countless personal encounters and intense relational times to the plenary experiences of worship.
For an apostolic movement such as CRM, there is no substitute for simply being together with those of like heart, passion and commitment.  Being together and celebrating our common vision as a multi-cultural kingdom community had a spiritual and emotional dynamic that was at times overwhelming.  Soli Deo Gloria!