Sunday, July 30th, 2006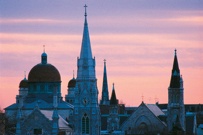 "The leadership of nurture structures (congregations and linkage structures) on whom we largely depend for our Christian education have always tended to a mono-structural view of the Church. In fact, our theologians tend to define the Church in terms of this nurture structure." —Charles Mellis in Committed Communities, pg. 6.
This mindset that Mellis refers to (and then goes on to effectively deconstruct in his book) is what I refer to as
"the supremacy of the church local."
It's that ill-informed concept that says the church in its local form is the only legitimate expression of the body of Christ. In this view, the congregational/diocesan form is the only true expression of what "church" is.
Unfortunately, this truncated view of the church has prevailed, as Mellis notes, in Western theological education except in the field of missiology. While missionaries and other apostolically gifted individuals are often required to endure a classic theological curriculum (including Greek, Hebrew, and other assorted irrelevant subjects) to get duly certified for ministry through an educational system biased toward the scholarly, those headed into pastoral ministry for the church local and its hierarchal "linkage structures" (ie, denominations) rarely have to immerse themselves in missiological studies.
It is a rare pastor who is exposed to the theology of mission or the history of missional ecclesiology. While they may have studied church history from the perspective of doctrine, heresies and apologetics, they seldom examine the fundamental structural dynamics that are essential for an understanding of the health and expansion of the Christian movement. For example, few ever wrestle with a volume such as Kenneth Scott Latourette's A History of Christianity or any seminal texts on a theology of mission. How many pastors-to-be have been immersed in Newbigin, McGavran, Winter or Bosch?
What can suffer as a result is an understanding and appreciation of those apostolic structures upon which the vitality of the Christian movement has always depended. This lack of understanding is widespread in the West. One sees it across a broad spectrum from the traditional/historic churches of modernity, including the mega-churches—which are particularly susceptible because of their perception of self-sufficiency—to the emerging church movement.
Yet when leaders—pastoral, lay, and those leading apostolic movements—all "get it," the resulting synergy that occurs from such a biblical, Spirit-directed interdependence is a tremendous thing to experience. And when it genuinely happens, the name of Jesus is renowned among the nations in an Ephesians 3:20 way, "...immeasurably more than all we ask or imagine."