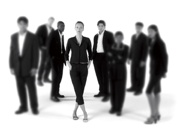 Historically, the Christian movement has pretty much said four things to business people:

1. "Give us your money."
2. "Get involved with the local church. But all too often in the modern era that may mean work as an usher, serve on a board, teach fifth grade Sunday School, or undertake some other task usually unrelated to your vocation."
3. "If you really love Jesus, give up your business/professional career, go to seminary, and become a real person of the cloth."
4. "We have this business manager's job at the church or this

CFO

's role in the organization and we really need someone to deal with the filthy lucre. Of course realize, that if you ever take such a role, you're really not in 'ministry' and those duly ordained are doing the real stuff."
How sad.
But there much better ways – when our messed up theology about vocation gets fixed- whereby those called as business men and women in the marketplace can make a huge kingdom contribution through the use of their gifts and business acumen. More to come.