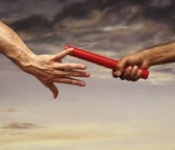 "The skills involved in selecting and training church leaders on the
mission fields of the world are without question the most important skills that apostolically gifted missionaries can take to most fields today." – C. Peter Wagner (commentary on Acts, p 326).
Wagner highlights a component of ministry that determines the survivability and health of the Christian movement, regardless of setting. While critical and essential, such a function is not flashy. It's slow, behind the scenes, and often unnoticed. It's not emotionally gripping and the type of activity at which people throw lots of money. It demands intentionality. It demands priority. Bobby Clinton articulates this as one of the major leadership lessons of the Bible:
"Effective leaders view leadership selection and development as a priority function." – J. Robert Clinton
I know of no better way to invest a life for God's kingdom purposes than in pursuit of ministry that contributes to such strategic results. At its core, that is what
CRM
is all about. And personally, wherever Patty and I live, wherever we ministry, whatever team we are part of, whatever we do, this particularly ministry focus is what consumes us.