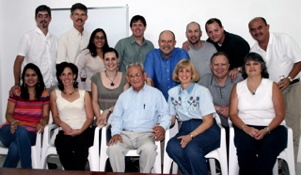 CRM has had people living and ministering in Venezuela for 13 years. I was together with them yesterday in Caracas.
This team has faithfully and effectively served the church throughout this nation during those years and is now going through a major leadership transition to national leadership. Leonel and Melissa Portillo (far right) will assume responsibility for the team in June and Randy and Doralicia Gonzales (far left) will be moving to Costa Rica to open CRM's work in Central America.
I wish I could clone this team. The quality of their work and the depth of their contribution to the Christian movement in this part of Latin America has been excellent. And their dynamic as a team – loving and respecting each other and working together harmoniously – has been an exemplary model.