We made a decision in CRM over a decade ago that we would not evolve into a multi-national corporation, rather we would embrace a global ministry model that was an internaitional partnership of national CRM entities, relating to one another on a relational, fraternal basis. We call that international partnership, CRM CoNext ...which represents going "together into the future."
Each year, the leadership of these national CRM entities get together and this was our gathering at the end of 2005 in England. Five nations were represented: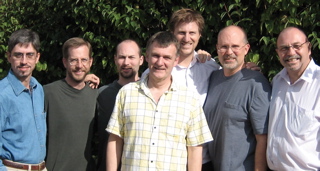 From L to R: Randy Gonzales – Venezuela, Bobby Booze – Hungary, my admin assistant – US, Steve Addison – Australia, Tom Middleton, my ministry assistant – US, Sam Metcalf – US, and Ian Hamilton, UK.
Participation in CoNext requires CRM ministry that is moving toward the inclusion of nationals on on our staff, nationals in leadership, and nationals being sent as missionaries. These five nations are on that track to varying degrees.
In September 2006, we will probably add to this number folks from Africa and Korea. Today CRM staff live and minister in 23 nations. In the next decade, we hope to see that expand to over 50 countries with at least 20 of those as CoNext partners.
We believe missiologist Ralph Winter got it right when he wrote:

"It is astonishing that most Protestant missionaries … have been blind to the significance of the very structure within which they have worked. In this blindness, they have merely planted churches and have not effectively concerned themselves to make sure that the kind of mission structure within which they operate also be set up on the field."
CoNext is
CRM
's response to this issue and we believe has huge advantages. We beleive such partnership:
1. Leads to less dependence
2. Allows for more effective contextualization
3. Has an exponential potential for multiplying
4. Keeps our emphasis on relational interdependence transcending organizational ties.