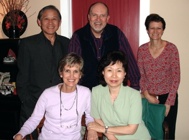 Tong and Jane Park give leadership to CRM Korea. They are pictured here with Patty and me along with Jean Gill, CRM-Japan at the far right.
We are grateful to the Parks and handful of other visionary Korean leaders – from a variety of denominational backgrounds – who are pioneering CRM in South Korea. We are looking forward to the time when Koreans will serve with CRM not only on the Korean peninsula but in other nations having been sent from Korea. We also desire CRM-US to be a sending entity for Korean Americans who want to follow God's leading to live and minister cross-culturally.
While the story of the Christian movement in Korea in the last half of the 20th century is remarkable, disturbing signs are beginning to appear in the Korean Church. Overall, Christianity has plateaued and stalled in Korea in the past decade. There are significant problems with the younger generation as their involvement with traditional Christianity and the faith of their parents wanes. Even in a highly homogeneous society such as Korea, forces of globalization, post-modernity, and secularization are having an inevitable impact. Also materialism and unprecedented affluence are taking a toil.
Korea has the potential for making one of the greatest contributions to the worldwide Christian movement of any nation as we move into the 21st century. It is yet to be seen whether Korean Christianity can carpe diem.