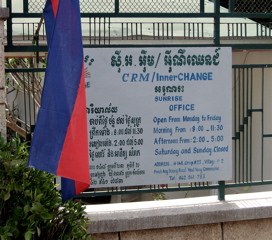 I saw and experienced one of the ways being the presence of Jesus in word and deed is lived out among the poor in Cambodia.
Sunrise – a ministry of InnerCHANGE – CRM's "order among the poor" – lovingly and compassionately walks with those suffering from HIV/AIDS. I visited the hospice where the very sick come, some to die. And spent time in "home visits" with families where parents or children are infected.
I also observed ways children are helped in preventative ways in order to stem the tide of the disease before infection. Most of all I was privileged to meet and interact with a cadre of men and women, all Cambodians (pictured above), who sacrificially give of themselves on a daily basis to the the suffering.
It all gives street level meaning to the words of the prophet Isaiah, "...if you spend yourselves in behalf of the hungry and satisfy the needs of the oppressed, then your light will rise in the darkness and your night will become like the noonday."
It was a joy and an honor to experience firsthand such light rising in this remote corner of Asia.