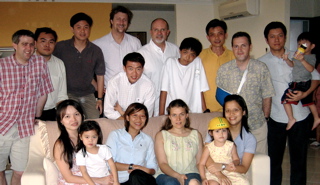 Along with Tom Middleton (back row center) I spent an afternoon with this remarkable group of people in Singapore. They wanted to interact about the "emerging church."
I had no idea I would find such understanding or interest in Asia. Among the questions we delved into together were:

1.What are emerging churches? What are the characteristics and commonalities?

2. To what extent is it a western/urban phenomena with western values and does it look differently in Asia and in their culture?

3. What's are the consequences and the reach of globalization and the secular, postmodern elements of such?

4. How do fresh expressions of "church" occur in their context? Will these expressions be within existing evangelical instititutions or something new?

5. What price may they have to pay as they cooperate with God to engage their own generation with the Gospel, living it out in forms of community that are authentic, creative and missional?

6. What is apostolic giftedness and calling? How does that affect each of them as they discover God's kingdom purposes, particularly as it relates to finding their niche in some form of the church local as well as some form of the church missionary or apostolic?
These men and women have the ability to be and to influence the next generation of leadership for the Christian movement in their nation and beyond. May God give them the courage to live out their growing convictions. May they be in our day the missional pioneers not unlike some of their ancestors who were key, formative leaders of the Singaporean church in decades past.