Pictured here are three of the men who work closely with me: Tom Middleton (the tall one with the shaggy hair) is my ministry assistant, my personal assistant and Colin Crawley (the Brit on the far right in both pictures) who gives leadership to Enterprise International, CRM's economic development arm that creates for-profit businesses to support ministry around the world.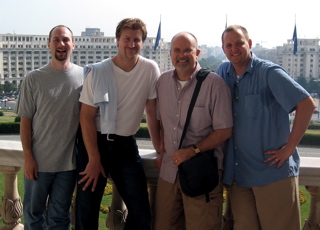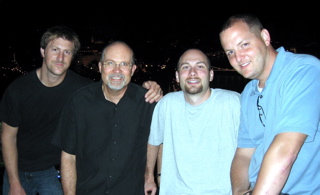 On the left, we are on the main balcony of Ceausescu's palace in Bucharest, Romania and on the right overlooking the Danube in Budapest at night.
These three men, in their late 20s and early 30s, are a great source of joy and encouragement! I couldn't do what I do without them.
Each carries significant responsibility. And in the future, each – with their very able spouses – will bear even greater responsiblities in leading CRM. Relating to them, and others like them, brings me great joy.